"4TH R.N.RAIKAR MEMORIAL INTERNATIONAL CONFERENCE & DHIR-GHOSH INTERNATIONAL SYMPOSIUM ON ADVANCES IN CONCRETE: MATERIALS, DESIGN, CONSTRUCTION"
10th and 11th December 2021, Hotel The Lalit, Mumbai, India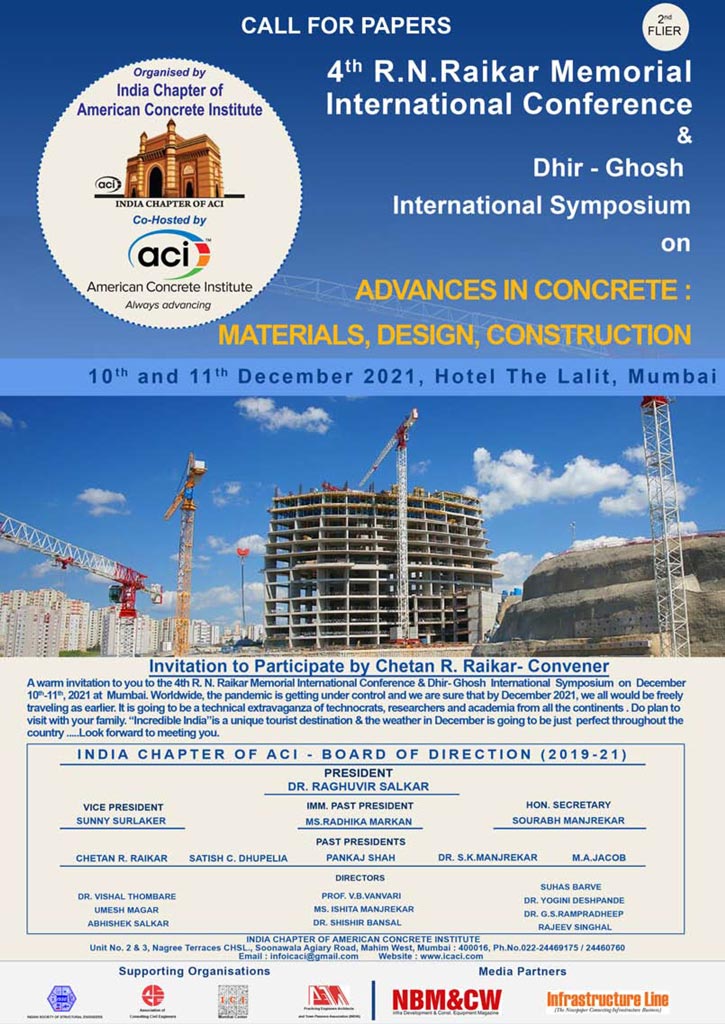 Dear Technocrat,
Trust, the New Year 2021, is treating you much better compared to the last year!
You may be aware that, due to the pandemic, we had to take the unfortunate decision to postpone the "4th R.N.Raikar Memorial International Conference", which was scheduled in December 2020.
India Chapter of ACI takes great pleasure in announcing that the "4th R.N.Raikar Memorial International Conference" is now re-scheduled on"10th and 11th December 2021".  Its 2nd "Flier" is enclosed herewith, which would provide all the necessary information about the conference.
I am sure you are aware that the world's largest "Vaccination Programme" has been launched by India, and in a matter of few months, we all would get vaccination shots.  We feel confident, hence, that it would be very safe to travel to India in December 2021.  We sincerely pray that the conditions in your country too are back to normalcy soon.
I, on behalf of the India Chapter of ACI, as the "Convener" of this conference, request you to kindly join us in various capacities, in taking this conference to a different level.
I personally look forward to meeting you in Mumbai, India in December 2021.
With warm regards,
For India Chapter of ACI
Chetan Raikar
Convener
4th R.N.Raikar Memorial International Conference