NATIONAL SEMINAR "GEOPOLYMER CONCRETE APPLICATIONS: CHALLENGES & OPPORTUNITIES"
Dear India Chapter of ACI Member,
Greetings from India Chapter of ACI and ICI, Bengaluru Center.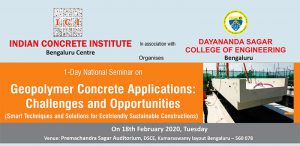 India Chapter of ACI has always endeavored to provide technical, networking and growth opportunities to our members, by means of our conferences and our association with other leading events in the Construction Industry. This time around we are proud to be supporting "ICI – Bengaluru center ", is organising this "One-Day National Seminar" for the benefit of Construction Industry professionals, RMC manufacturers, Cement manufacturers, Chemical admixtures, Builders & Developers, Consultants, Contractors, Practicing engineers, Decision makers from Govt Departments, Research scholars, faculty & students fraternity. We request all the professionals to come forward and use this platform and get benefit from the seminar.
In line with this continuing endeavour, "ICI-BENC a One Day  National Seminar entitled "Geopolymer Concrete Applications: Challenges and Opportunities" on 18th February 2020, Tuesday, at Premachandra Sagar Auditorium, DSCE, Bengaluru. Get to know from the experts and hands-on professionals will speak on vital aspects.
Geopolymer concrete is an eco-friendly technology which makes use of the waste by products (fly ash, ground granulated blast furnace slag etc.,) from the various other industries in the preparation of the concrete instead of the ordinary Portland cement (OPC). The evidences from various researches show that using of OPC in the preparation of concrete leads to almost 5-8% of the man made global carbon-di-oxide emissions. By using materials like the fly ash and GGBS for the preparation of the concrete almost reduces the carbon-di-oxide emission by 90% when compared to the usage of OPC in concrete.
A quick summary of the seminar is as follows:
Would like to participate in the following manner (Tick whichever is applicable)
Delegates
Sponsorship
Amount Rs
Members of ICI, ACCE, INSTRUCT – Rs. 1,500

Non-member – Rs. 2,000

ICI Student Member – Rs. 750

Non-Student Member / Research Scholars – Rs. 1,000

 

Delegate registration fee is Including GST 18%

 

Gold Sponsor

Silver Sponsor

Supporting Organisation

Insertion of Two-Marketing Collaterals in Delegate Kit

– Rs. 50,000/-

– Rs. 25,000/-

– Rs. 15,000/-

– Rs. 10,000/-

Above sponsorship payments are

excluding GST 18%

Please email receipt/reference number clearly mentioning your name and date of remittance,
To: icikbc@gmail.com, so as to receive a confirmation of your registration.
Electronic Transfer – RTGS / NEFT Details:
Account Name: Indian Concrete Institute – Karnataka Bangalore Centre
PAN No.: AAATI0256J /
Service Tax Reg. No.: AAATI0256JSD003 /
GSTIN: 29AAATI0256J1ZM

Bank Name: Syndicate Bank,
IFSC Code: SYNB0000412

Branch Name & Address:
J. C. Road Branch, Jasmine Mansion,
J.C. Road, Bengaluru 560002.

Account Type: Current Account No.: 04121010000530
For more details:
Dr. L R Manjunatha
Chairman, ICI-BC
0-94806 82100
Email: lrmanjunatha@gmail.com
Dr. R L Ramesh
Secretary, ICI-BC
0-98456 57560
Email: rameshrantaval@gmail.com
Indian Concrete Institute – Bengaluru Centre, Karnataka
No. 2, UVCE Alumni Association Building, KR Circle, Bangalore-560 001
Tel: 080-2222 4803 / Email: icikbc@gmail.com / Website: icikbc.org
Looking forward to see you at the conference.
Warm Regards,
Dr. Raghuvir Salkar
President
India Chapter of ACI.