'GLOBAL TECHNICAL WEBINAR' RELATED TO "CURING IS GOOD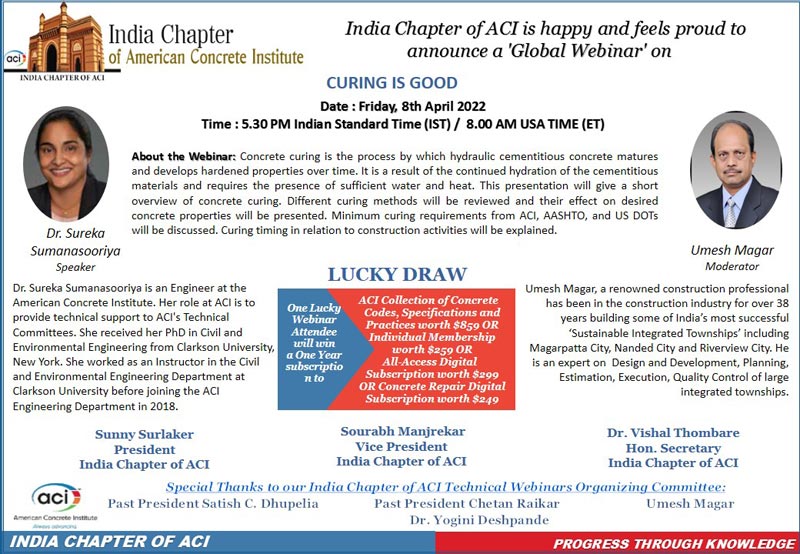 Dear India Chapter of ACI Member,
We are happy to announce a 'GLOBAL TECHNICAL WEBINAR' RELATED TO "CURING IS GOOD" on 8th April 2022 at 5:30 PM as per IST.  Details of the webinar are placed below:
About the Webinar: Concrete curing is the process by which hydraulic cementitious concrete matures and develops hardened properties over time. It is a result of the continued hydration of the cementitious materials and requires the presence of sufficient water and heat. This presentation will give a short overview of concrete curing. Different curing methods will be reviewed and their effect on desired concrete properties will be presented. Minimum curing requirements from ACI, AASHTO, and US DOTs will be discussed. Curing timing in relation to construction activities will be explained.
Learning Objectives:
Define curing and related terms,
Recall different curing methods,
Examine research findings on curing,
Review minimum curing requirements from ACI, AASHTO, and state DOTs
Explain curing timing in relation to construction activities
Webinar Topic: Curing is good.
Who is it For?: The topic is relevant for design engineers, architects, contractors, and site engineers while designing and executing projects. It's a good starter for students and academia interested in Structural Design
Webinar Presenter/Speaker: Dr. Sureka Sumanasooriya
Dr.Sureka Sumanasooriya is an Engineer at the American Concrete Institute. Her role at ACI is to provide technical support to ACI's Technical Committees. She received her PhD in Civil and Environmental Engineering from Clarkson University, New York. She worked as an Instructor in the Civil and Environmental Engineering Department at Clarkson University before joining the ACI Engineering Department in 2018.
Webinar Moderator: Umesh Magar
Umesh Magar, a renowned construction professional has been in the construction industry for over 38 years building some of India's most successful 'Sustainable Integrated Townships' including Magarpatta City, Nanded City and Riverview City. He is an expert on Design and Development, Planning, Estimation, Execution, Quality Control of large integrated townships.
Date: Friday, 8th April 2022,
Time: 5.30 PM as per Indian Standard Time (IST) / 8.00 AM USA TIME (EDT).
Registration link:https://attendee.gotowebinar.com/register/2218685144266523918
A webinar flyer with additional details is attached herewith for your information.
Hurry Up and Register Now as there are only 500 seats!!
One lucky webinar attendee will win a Year's Subscription to ONE of the following:
ACI Individual Membership OR ACI Collection of Concrete Codes, Specifications, and Practices OR
ACI University All-Access Digital Subscription OR ACI Concrete Repair Digital Subscription
Warm Regards,
Sunny Surlaker, President
Sourabh Manjrekar, Vice President

Dr. Vishal Thombare, Hon. Secretary
Special Thanks to our India Chapter of ACI Technical Webinars Committee:
Shri. Satish C. Dhupelia | Shri. Chetan Raikar | Shri. Umesh Magar | Dr. Yogini Deshpande