3RD "GLOBAL TECHNICAL WEBINAR" WILL BE PRESENTED ON "CONCRETE CRACKING" ON FRIDAY, 28TH MAY 2021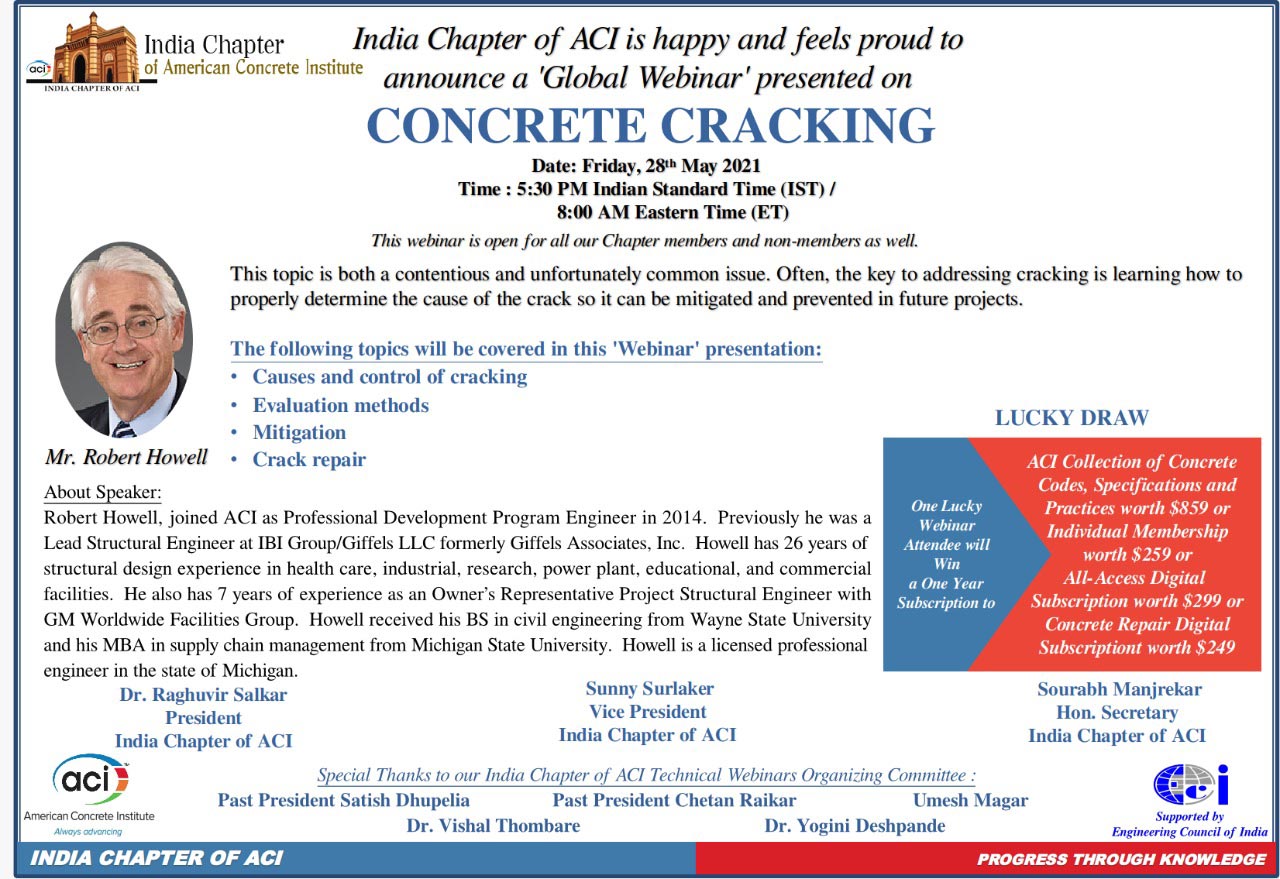 Dear India Chapter of ACI Member,
Greetings from India Chapter of ACI.
Trust your family members and you are safe and in good health & spirits!
India Chapter of ACI has always endeavored to provide cutting edge technical, networking, and growth opportunities to our members, through our conferences/webinars and our association with other leading events in the Construction Industry.
Once again "India Chapter of ACI" feels happy and proud to announce its 3rd "Global Technical Webinar" will be presented on "Concrete Cracking" on Friday, 28th May 2021 at 5.30 PM Indian Standard Time (IST) / 8.00 AM USA TIME (EDT). This webinar is open for all our Chapter members and non-members as well.
The webinar will be presented by Mr. Robert Howell, joined ACI as Professional Development Program Engineer in 2014.  Previously he was a Lead Structural Engineer at IBI Group/Giffels LLC formerly Giffels Associates, Inc. Howell has 26 years of structural design experience in health care, industrial, research, power plant, educational, and commercial facilities.  He also has 7 years of experience as an Owner's Representative Project Structural Engineer with GM Worldwide Facilities Group.  Howell received his BS in civil engineering from Wayne State University and his MBA in supply chain management from Michigan State University. Howell is a licensed professional engineer in the state of Michigan.
The following topics will be covered in this "Webinar" Presentation:
Causes and control of cracking
Evaluation methods
Mitigation
Crack Repair
The link to register for the "Chapter Talk Webinar is placed below for your information and ready reference.
https://attendee.gotowebinar.com/register/1393818319782190863
One lucky webinar attendee will win a One Year Subscription to the following:
ACI Collection of Concrete Codes,
Specifications and Practices worth $859 OR Individual Membership worth $259 OR All Access Digital subscription worth $ 299 OR Concrete Repair Digital Subscription worth $249
Hurry Up and Register as there are only 500 seats!! We don't wish for you to miss this Golden Opportunity.
Dr. Raghuvir Salkar
President
India Chapter of ACI
Sunny Surlaker
Vice President
India Chapter of ACI
Sourabh Manjrekar
Hon. Secretary
India Chapter of ACI
Special Thanks to our India Chapter of ACI Technical Webinars Organizing Committee:
Past President
Shri. Satish C. Dhupelia
Past President
Shri. Chetan Raikar