GUEST LECTURE ON CONCRETE FOR MARINE STRUCTURES & MARINE ENVIRONMENT
– Report –

Guest Lecture on Concrete for Marine Structures & Marine Environment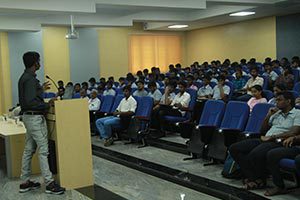 The Department of Civil Engineering in association with the Student's Chapter of American Concrete Institute at PSG iTech organised a guest lecture on the topic, 'Concrete for Marine Structures & Marine Environment' for the Civil Engineering students on January 8, 2020. The speaker invited to deliver the talk was Mr. Saravanan Perumal, Senior Marine Structural Engineer with Advisian Worly Group, Canada. The session commenced at 10.30 am in the Seminar Hall of the Civil Engineering Department.
The Welcome Address was delivered by Dr. M. I. Abdul Aleem, Head, Department of Civil Engineering.
The Speaker initiated his talk by outlining the topics that would prove inevitably essential for civil engineers at workplace. He detailed the project criteria pertaining to construction site, use of materials and limitations. With impeccable eloquence, he portrayed the erection process, function and working mechanism of marine structures such as wharves, breakwaters and fender piles. He explained the on-shore operations such as mooring, berthing and also mode of failure in piers. He elucidated the mechanisms of deterioration of concrete in marine structures and concluded his talk with an animation that showed the construction of wharves.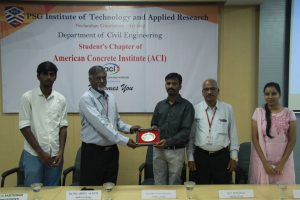 As the session culminated, the Guest was presented a memento by the Head of Civil Engineering Department. The session concluded at 11.50 am with the National Anthem. At the end of the assembly, the students were well satisfied with the information that was shared.
The programme was organized by the Mentor of ACI Student's Chapter, Mr.Elayaraja Sellappan, ACI student's chapter President Sitharth Subramani S & Vice president Dinesh Kanna.M