INDIA CHAPTER OF ACI SUCCESSFULLY CONCLUDES NATIONAL EXCELLENCE IN CONCRETE CONSTRUCTION AWARDS 2021
India Chapter of ACI [IC-ACI] successfully conducted its "2021 Excellence in Concrete Construction Awards", in April, 2021. Entries were evaluated by an independent panel of industry professionals comprising of Ar. Prem Nath, Er. Atul Bhobe, and Er. Ashwin Moghe.  First Place and Runners Up awards were selected in each category, namely Lower Rise Structure, Mid Rise Structures, Infrastructure, Decorative Concrete, Repair and Restoration, and Concrete Flatwork. The event received interesting, technologically challenging and innovative entries, spanning a range of construction and structure types. The First Place winners include:
The R. K. Laxman Memorial, Pune, India.
Integrated Exhibition-Cum-Convention Center (IECC), New Delhi, India.
The Motera Cricket Stadium, Ahmedabad, India.
The Cave that Travelled, Kerala, India.
Ro Brine Saturation Tank & Other Rcc Refinery Structures, Jamnagar, India.
INTEL MLCP Multi Level Car Park, Bengaluru, India.
Homi Bhabha Cancer Hospital & Research Centre, Mohali, India.
Twilight Star, Surat, India.
Extradosed Cable Stayed Bridge across Durgam Cheruvu Lake at Madhapur in Hyderabad under Engineering Procurement and Construction (EPC) Turnkey, Hyderabad, India.
IIM Kashipur Project, Uttarakhand, India.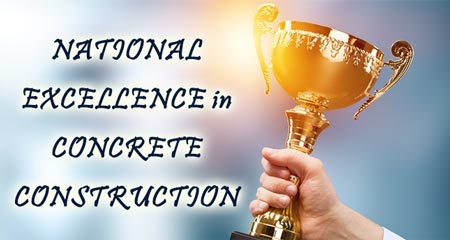 These entries were executed and submitted by some of India's top Construction companies such as Shapoorji-Pallonji Construction Private Limited, L&T Construction Private Limited, Reliance Industries Ltd,and also by specialty companies such as UNITECTURE, Forethought Design Consultants, and Nuvoco Vistas Corp Ltd – Mumbai. The First Place Award winners, were endorsed to compete at the 2021 "Excellence in Concrete Construction Awards" organised by ACI-USA.
The awards were conducted under the guidance of the IC-ACI President, Dr. Raghuvir Salkar, and were spearheaded by IC-ACI Director, Dr. Yogini Deshpande, and IC-ACI Vice President, Er. Sunny Surlaker with the support of the Board of Direction of IC-ACI.