ONE DAY INTERNATIONAL SEMINAR ON "RECENT TRENDS IN ELECTRO CHEMICAL APPLICATIONS" ORGANISED BY NANDHA ENGINEERING COLLEGE, ERODE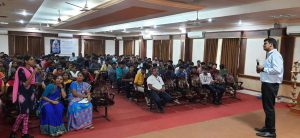 The Students' Chapter of India Chapter of American Concrete Institute at "Nandha Engineering College", Erode had organised a one-day seminar on "Recent Trends in Electro Chemical Applications" on 29th November 2019.  Dr. E.K.Mohanraj, Dean, Department of Civil Engineering welcomed the gathering. The seminar was organised to create awareness among students about needs of research expectations from them and various qualities needed for higher education.
The Technical lecture was given by Dr. Kogularasu Sakthivel, Postdoctoral Research Faculty of National Cheng Kung University – TAIWAN on "Applications of Electro Chemical in energy storage, power generation, electrolysis, green energy, sensors and environmental protection and treatment applications".
The seminar ended with questions and answer session.