Online 2 days Guest Lectures on 8th and 9th December 2022 organised by O. P. Jindal University, IC-ACI Student Chapter on Zoom Meeting Platform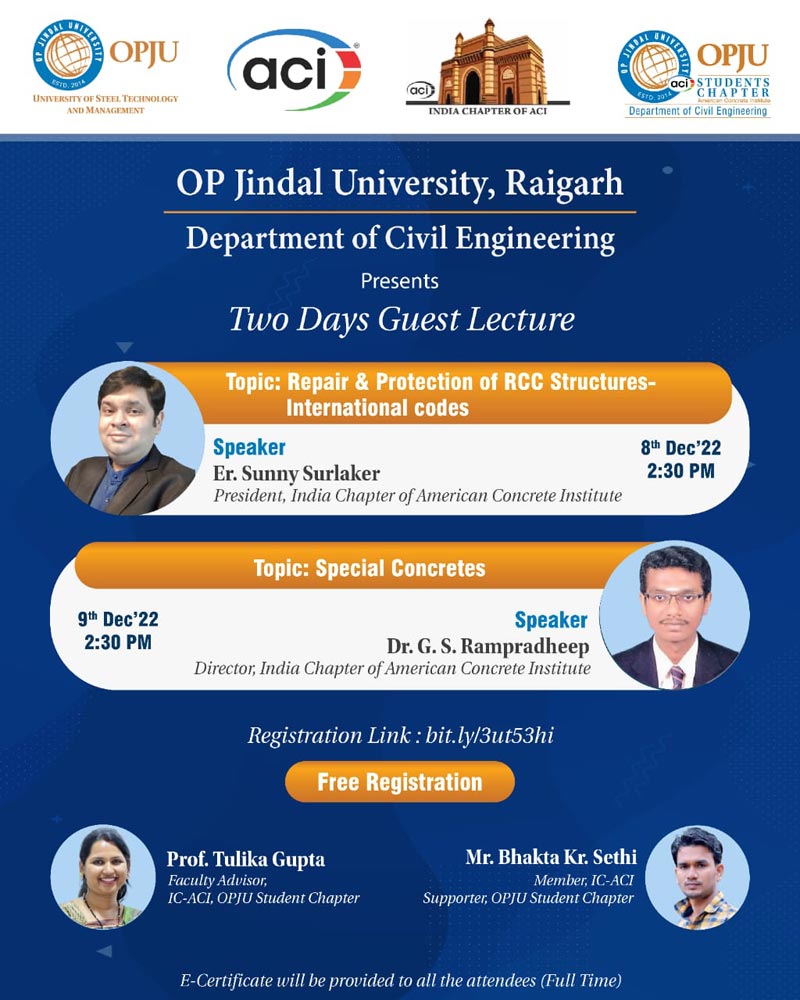 Dear Members,
Greetings from India Chapter of ACI.
India Chapter of ACI has always endeavored to provide technical, networking, and growth opportunities to our members, by means of our conferences and our association with other leading events in the Construction Industry.
We would be happy to share with you following two days online Guest Lectures is organizing by IC-ACI Student Chapter at "O. P. Jindal University" Chhattisgarh from 8th to 9th December 2022 on Zoom Meeting Platform.
Date: 8th December 2022,
Guest lecture by Er. Sunny Surlaker: IC-ACI President,
Topic: Repair and Protection of RCC Structures-International Codes,
Time: 2.30 pm to 4.00 pm.
—–
Date: 9th December 2022,
Guest Lecture by Dr. G. S. Rampradheep: IC-ACI Director,
Topic: Special Concretes
Time: 2.30 pm to 4.00 pm.
It is a free online guest lectures, the details is attached herewith for your information and further necessary action.
Registration Link:
https://us06web.zoom.us/webinar/register/WN_sbVCSYFfTs2m93zunJZYyg
E-Certificate will be issued to all attendees only.
Hurry Up!! Don't miss this golden opportunity.
Warm Regards,
For India Chapter of ACI,          
Er. Sunny Surlaker,          
President