KEC CONDUCTS ONE-OF-ITS-KIND LIGHT WEIGHT CONCRETE TT TOURNAMENT
Team PSG beat Team Kongu in a thrilling final
Team Kongu wins award for Design of Light Weight Table Tennis (TT) racket.
District Erode: Leading the way in giving students practical education of concrete, Kongu Engineering College (KEC), in district Erode of Tamil Nadu, successfully concluded its Light-Weight Concrete themed Table Tennis tournament.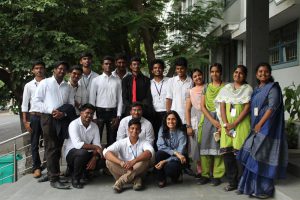 The innovative tournament attracting 21 teams from various engineering colleges in and around District Erode and neighbouring Coimbatore city, was held to coincide with the Ultimate Table Tennis – International TT tournament taking place in New Delhi.
Engineering colleges like KEC that work closely with American Concrete Institute (ACI) through the India Chapter of ACI (ICACI) take pride in introducing concrete to their students in fun and interesting ways. Not only are students motivated to make concrete when linked with an exciting sport, but they also understand the practical issues one faces in the process of making/curing concrete.
Dr. G S Rampradheep, the Mentor of the Student Chapter of ICACI at Kongu Engineering College (KEC) is the inspiring, young-hearted and energetic Professor instrumental in all of KEC's innovative concrete festivals.
In his words, "My aim is to transfer the knowledge from the classroom to the practical side of things. I do this by making students excited about concrete – notably through sports.
ICACI President, Radhika Markan, added: "We are delighted and honoured to have Prof. Rampradheep associated with our cause of 'Progress through knowledge'. Under his leadership KEC has emerged as one of the foremost Student Chapter bodies conducting year-round concrete themed festivals, conferences and workshops."
"Last year KEC's Super Over tournament involving a light-weight cricket bat was a super duper hit in our cricket-loving country India. It even engaged the attention of other ACI chapters around the globe, particularly in cricket playing nations like Australia."
"I wish KEC and Dr. Rampradheep continued success as they find more and more stimulating ways to engage students with concrete."