3RD INTERNATIONAL CONFERENCE ON "INNOVATIVE TECHNOLOGIES FOR CLEAN AND SUSTAINABLE DEVELOPMENT
Dear India Chapter of ACI Member,
Greetings from India Chapter of ACI and NITTTR.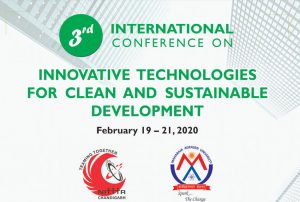 India Chapter of ACI has always endeavored to provide technical, networking and growth opportunities to our members, by means of our conferences and our association with other leading events in the Construction Industry. This time around we are proud to be Co- Sponsored by "National Institute of Technical Teachers Training & Research, Chandigarh and Maharaja Agrasen University Baddi." is organizing the 3rd International Conference on "Innovative Technologies for Clean and Sustainable Development"which is to be held in 19th– 21stFebruary 2020 at NITTTR Chandigarh, India.
The emphasis of this International Conference is improvements at the time of increasing population destiny creates the need to build more, develop more, and transport more, environment is under continued stress and impact. There is need to understand that growth cannot at the risk to resources and ecology.
The event aims at establishing long term linkages  between user industry and providers of clean  technologies and sustainable  materials for a rapid  transformation  of the  SMEs  in the region  for enhancing   Eco- efficiency  and competitive  strength  of such  industries  through  clean technology  interventions.
ICACI Members get the following benefit:
Members Institutional/Individual of INR 8,000/-
For Student Members of INR 6000/-
We request you to go through the attached conference flyer for more details on delegate fees and sponsorship opportunities.
We request you to extend your support to "NITTTR"and the event, by deputing delegates and sponsorships for the event.
For more details:
Please Contact:
Deepankar Kumar Ashish,
Associate Professor
Maharaja Agrasen University
Civil Engineering Department
AtalShikshaKunj, kalujhanda, Baddi,
Distt.Solan, H.P. – 174 103, India
Landline: +91-172-2759743
Email:  deepankar1303@gmail.com; dashish@mau.edu.in
Looking forward to see you at the conference.
Warm Regards,
Dr. Raghuvir Salkar
President
India Chapter of ACI