WORKSHOP ON "ADVANCED FIELD TESTING TECHNIQUES IN GEOTECHNICAL AND STRUCTURAL ENGINEERING"
One day workshop on
Advanced Field Testing Techniques in Geotechnical and Structural Engineering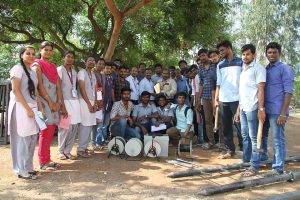 PSG Institute of Technology and Applied Research, Coimbatore, the Students' Chapter of India Chapter of ACI had organised one day WORKSHOP ON "ADVANCED FIELD TESTING TECHNIQUES IN GEOTECHNICAL AND STRUCTURAL ENGINEERING" on Thursday, 3rd October 2019 at PSG Institute.
Mr. L D Mohapatra, National Manager, AIMIL Ltd. was Chief Guest and Mr. K. Aravindh, Quality Manager, Hitech Concrete Solutions Chennai Pvt. Ltd., was Guest of Honour of the Workshop.
Dr. G. Chandramohan, Vice Principal welcomed the participants and explained the Importance of geophysical instruments in strength evaluation. Mr. L D Mohapatra gave speech on the necessity of geophysical instrumentation for understanding the subsurface features, its help in deciding the best and optimised foundation, tunnel routes etc, and Mr. K. Aravindh has shared field investigation data and discussed few case studies on strength evaluation of dilapidated structures to the gathering.
During the workshop the practical training was also held on the followings:
Structural strength evaluation has been demonstrated using Rebound hammer equipment for the participants
Preparation of geopolymer concrete and Steam curing using autoclave has been demonstrated
Subsurface profiling was demonstrated using Deep resistivity meter equipment in the ground nearer to the Guest House of PSG iTECH
Workshop was well attended by students and faculties from PSG Institute as well as the colleges around the PSG Institute.
Prof. Elayaraja gave thanks to the Principal and Vice Principal of PSG Institute for their valuable cooperation, to the India Chapter of American Concrete Institute for its support and AIMIL Ltd., for sponsoring the workshop.