NATIONAL SEMINAR AND EXHIBITION ON "URBAN CHALLENGES AND CIVIL ENGINEERING OPPORTUNITIES"
Dear India Chapter of ACI Member,
Greetings from India Chapter of ACI and ACCE, Bangalore Center.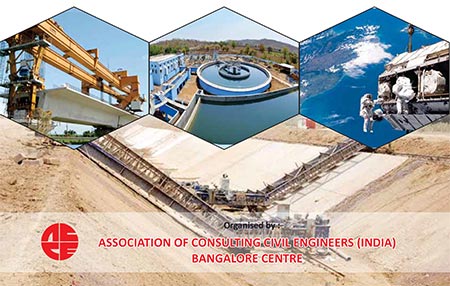 India Chapter of ACI has always endeavored to provide technical, networking and growth opportunities to our members, by means of our conferences and our association with other leading events in the Construction Industry. This time around we are proud to be supporting Association of Consulting Civil Engineers (ACCE), Bangalore Center for NATIONAL SEMINAR AND EXHIBITION ON "URBAN CHALLENGES AND CIVIL ENGINEERING OPPORTUNITIES" at the NIMHANS Convention Centre, NIMHANS Campus, Hosur Road, Bangalore 560 028.
The theme is "Urban Challenges and Civil Engineering Opportunities". REDECON-2020 attempts to address various present day challenges of serious concern to society such as Water, Solid Waste Management, Climate Change, Statutory requirements related to Housing & related Industries, Latest Technological Developments especially in the field of Artificial Intelligence, IoT, BIM etc., which can form a decisive tool to transcend impediments and provide effective solutions to the Urban and Civil Engineering Challenges.
The event will have a focus target audience of over five Hundred working professionals including Designers, Consultants, Decision Makers, Manufacturers, Specifiers, End users, Facilitators and Scholars drawn from all over the country. The expected well informed and focused footfall for the event including proposed Exhibition will exceed One thousand, spread over two days.
We request you to please go through the attached brochure for more details on delegate fees and sponsorship opportunities. We request you to extend your support to ACCE – REDECON 2020 and the event, by deputing delegates and sponsorships for the event.
Contact persons for additional details are:
R Rajesh Kannan,
Chairman, ACCE(I)–BLC,
Mobile No: +919741110366
Id: kannanretro@gmail.com
Shrikant S  Channal,
Secretary,ACCE(I)–BLC,
Mobile No:+919845899116
Email Id: precise_consultants@yahoo.co.in
Savina Kumar H C,
Treasurer, , ACCE(I)–BLC,
Mobile No: +919448531783,
Email Id: hcsavinkumar@yahoo.co.in

S D Anne Gowda Manager,
Admin ACCE(I),
Mobile No: +919945517462,
Email Id: accemanager@gmail.com
Looking forward to see you at the conference.
Warm Regards,
Dr. Raghuvir Salkar
President
India Chapter of ACI