VIRTUAL" INTERNATIONAL CONFERENCE ON "SUSTAINABLE DEVELOPMENT IN CONCRETE TECHNOLOGY – ICSDCT 2021"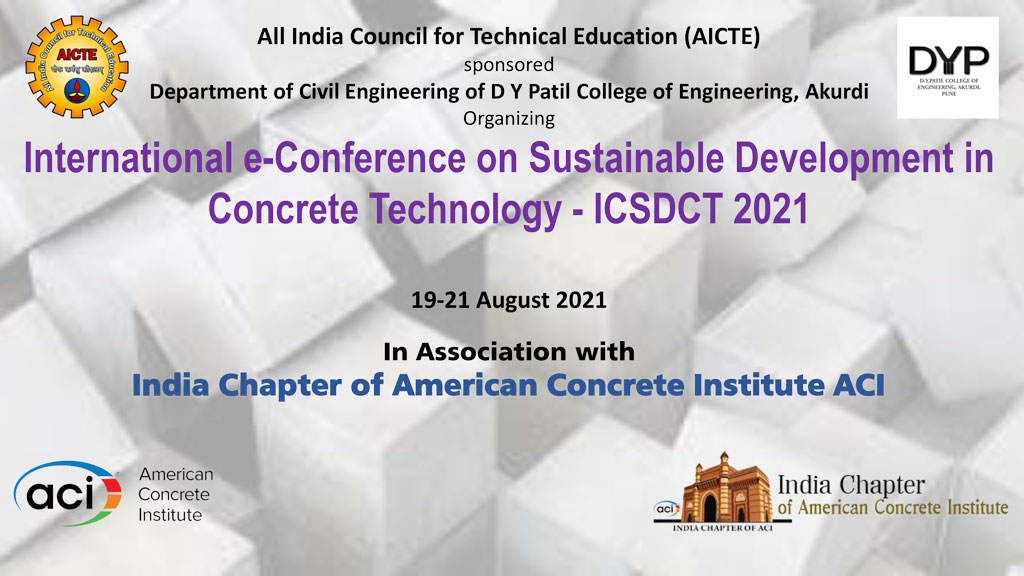 Dear Technocrats,
Greetings from India Chapter of ACI.
Trust you and your family members are safe and in good health & spirit!
India Chapter of ACI has always endeavored to provide technical, networking, and growth opportunities to our members, by means of our conferences and our association with other leading events in the Construction Industry. This time around we are proud to be supporting our Student Chapter at "D.Y.Patil College of Engineering", Akurdi, Pune Team for their "International Conference".
The "Virtual" International Conference on "Sustainable Development in Concrete Technology – ICSDCT 2021" will be held on 19th to 21st August 2021.
The aims at providing fresh perspectives on the latest developments in concrete technology towards sustainability. The conference will provide an ideal platform to discuss on the recent trends of concrete related research, innovative ideas, methodologies, directions, and other important issues pertaining to special types of concrete, durability aspects, and structural strengthening. Special emphasis will also be given to green concrete, sustainable materials and structures.
Key Note Speakers will be as below:
S. K. Manjrekar, Past President, India Chapter of American Concrete Institute
Satish Dhupelia, Past President IC-ACI
M. A. Jacob, Past President IC-ACI
Raghuvir Salkar, President IC-ACI
Dr J. D. Bapat, Adviser Cement and Concrete Manufacturing
You may send your "Papers" on the following topics: (Not Limited)
Concrete Technology in COVID-19 pandemic situation
High Strength and High Performance Concrete
Sustainable Concrete Technology in Construction Practice
Green Concrete
Advancements in Concrete Technology
Environmental Impacts of Concrete
Permeability and Durability of Concrete
Testing of Concrete
Analysis and Design of Concrete Structures
Reinforced and Prestressed Concrete Structures
Corrosion of Reinforced Concrete Structure and Prevention
Abstract submission link is placed below for your ready reference: (Gmail Account is required)
https://forms.gle/ZrkkUK1UymFD17jK8
For more details, you may contact to:
Dr Sandeep M Shiyekar
Email: smshiyekar@dypcoeakurdi.ac.in, Mobile No: +91 98223 77577
Ashwini Patil
Email: arpatil@dypcoeakurdi.ac.in, Mobile No: +91 77208 16699
The "Conference Flyer" is also attached herewith for your information and reference, please.
Hurry Up!! Don't miss this Opportunity.
Warm Regards,
For India Chapter of ACI.
Dr. Raghuvir Salkar
President