SPECIAL WEBINAR FOCUSING ON CONSTRUCTION
Dear Construction Professional,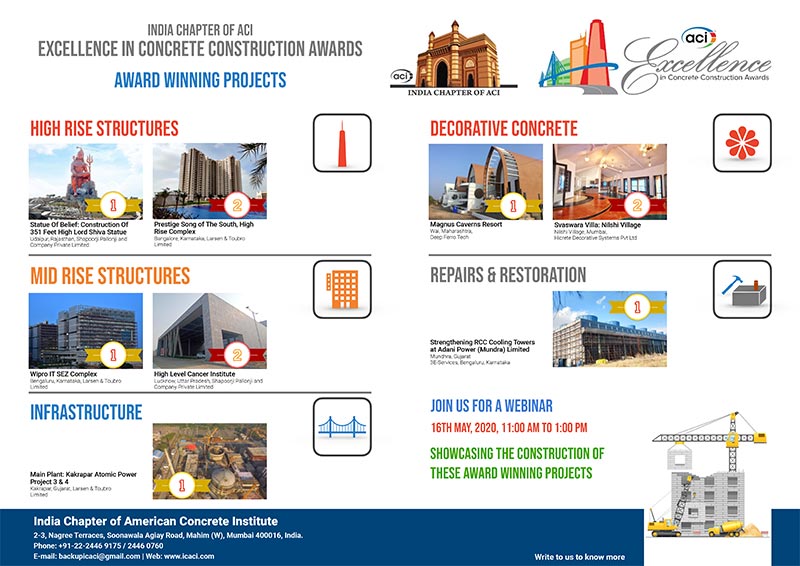 The Board of Direction of India Chapter of American Concrete Institute (IC-ACI) is glad to invite you to a Special Webinar Focusing on Construction and Salient Features of Projects Conferred "Excellence in Concrete Construction Awards". The Constructors of these projects will discuss the salient features, challenges and innovations encountered during the construction of the projects.
IC-ACI conducted its 2020 Excellence in Concrete Construction Awards, between January and March, 2020. Entries were evaluated by an independent panel of industry professionals comprising of Er. Satish Dhupelia, Ar. Shirish Sukhatme and Er. Jeevan Patgaonkar. First Place and Runners Up awards were selected in each category, namely High-Rise Structures, Mid Rise Structures, Infrastructure, Decorative Concrete and Repair and Restoration.
The First Place Award winners, were endorsed to compete at the "Excellence in Concrete Construction Awards" organised by ACI-USA. Join us to know more about these projects. Please register for the event using the link below.
Topic: IC-ACI Excellence in Concrete Construction Awards, Project Presentations
Time: Saturday, May 16, 2020, 11:00 AM TO 1:00 PM IST
Register for the meeting at:
https://us02web.zoom.us/meeting/register/tZAkdO-gpjguGtwOY4YTWRfaO_nz6hz_bDrS
After registering, you will receive a confirmation email containing a unique link to join the meeting.
Request you to please register at the earliest to make this event successful.
With Warm Regards,
Board of Direction of India Chapter of ACI