TWO-DAY GUEST LECTURES: IC-ACI STUDENT CHAPTER AT O. P. JINDAL UNIVERSITY, CHHATTISGARH
IC-ACI Student Chapter at O. P. Jindal University recently organised Two-day online Guest Lectures on 8th and 9th December 2022.  Two-day online lectures was successfully conducted with the presence of above 100 participants.  In these two-day lecture, IC-ACI President, Mr. Sunny Surlaker and Director, Dr. G. S. Rampradheep have been delivered a Guest Lectures.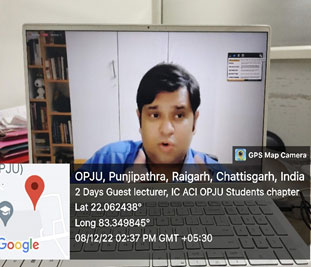 On 8th December 2022, President, Er. Sunny Surlaker delivered the lecture on the repair and protection of RCC structures by using the International codes. He delivered his experience and knowledge regarding the repairing and it protection.  The International codes which is suitable for the same and the provisions are clearly acknowledge by the speaker.
On 9th December 2022, Director, Dr. G. S. Rampradheep delivered the lecture on special concretes made by the industrial waste, agricultural waste, and bacterial and so on.  He spread his valuable knowledge on making of special concrete to testing the special concrete along with the Indian and ACI Codes.
Few glimpses of the above lectures are placed below:
This Two-Day lectures was successfully and smoothly conducted on online zoom platform under the presence of Dr. Mahasakti Mahamay, Head of Civil Department, under guidance of Prof. Tulika Gupta, Faculty Advisor, IC-ACI Student Chapter with cooperation of Mr. Bhakta Kumar Sethi, and hosted by Ms. Sakshi Agarwal at O.P.Jindal University.
Few review from students participants from these two-day lectures program:
Students understand the importance of the repair along with its protection,
This event got better clearance regarding their careers and studies,
After this event they become more confident and now have their specific goals for the future,
Most of them requested IC-ACI and OPJU to organise more such appreciative events
*********************