IC-ACI STUDENTS' CUBE TESTING COMPETITION-2022 & IC-ACI STUDENTS' ESSAY COMPETITION-2022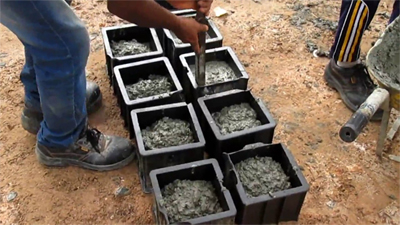 India Chapter of launched and successfully conducted the "2022 Concrete Cube Test" and Essay" Competitions" for students of Civil Engineering Colleges/Institutes with the support of Board of Direction of India Chapter of ACI and sustained efforts of active Member of Board of Direction, Mr. Satish C Dhupelia, the Principal Coordinator for Activities of Students' Chapters of India Chapter of ACI, and also as Principal Convener for both these Students' Competitions, and also with active support of, and promoted by various Mentors of ALL the "IC-ACI STUDENTS' CHAPTERS in India. This year also ICACI has received very good response from students from various Civil Engineering Colleges all over India.
2022 Cube Test Competition:
This Cube Testing Competition, aims at providing an opportunity to  Students of Civil Engineering, and to acclimatize themselves, for   (i) Design the Concrete Mix, (2), make the Concrete with their own Hands, (3) Cast the Test Cubes, (4) Cure them for 28 Days of Curing/Caring,(5) transporting, and (6) witnessing Actual Testing of Cubes, so prepared by them.
It was organised from 1st August 2022 to 20th September 2022 under following 11 Nodal Centers of Student Chapter of ICACI.  We feel proud to announce that 3 Students from following each Nodal Centres were selected as 1st, 2nd and 3rd Rankers for the Cube Test Competition.
COLLEGE AND STUDENTS NAMES
RANK
COLLEGE AND STUDENTS NAMES
RANK
TERNA ENGINEERING COLLEGE:
D.Y. PATIL COLLEGE OF ENGINEERING:
MENTOR:DR. PRIYANKA JADHAV
MENTOR:DR. S. M. SHIYEKAR
Mohammed Umair Choudhary
I
Abhishek Shinde
I
Rohit Borate
Rahul Bhuse
Irfan Shaikh
Sanskruti Chintawar
Deepak Nayansing Rajput
II
Kiran Krushnaji
II
Harshil Rasik Koladiya
Aryan Adhau
Yashasvi Anilkumar Yadav
Girisha Pawar
Kunal Dhurandhar
III
Siddhi Kolekar
III
Aaditya Gupta
Payal Thakore
Sahil Koli
Vishwa Nikam
SANJAY GHODAWAT UNIVERSITY:
ST. JOHN COLLEGE OF ENGG & MANT:
MENTOR: DR. CHETAN PATIL
MENTOR: PROF. SHREESHAIL B. H.
Anushka S. Kore
I
Asmita Dethe
I
Mayuri S. Ligade
Vaishnavi Patil
Omkar S. Tulsankar
Lingaraj Birajdar
Ashish Ayrekar
II
Shreya Bari
II
Prathmesh Powar
Prerna Kasar
Prathmesh Wangle
Khushal Patel
III
Bhushan Malvi
III
Atharav S. Patil
Chiraj Patil
Rohan Patil
Sagun Parab
KONGU ENGINEERING COLLEGE:
KPR INSTITUTE OF ENGG & TECH:
MENTOR: DR. G. S. RAMPRADHEEP
MENTOR: DR. MEENAKSHI B. S.
Arun.R
I
Siddarth S.
I
Dharanyaa.R
Vineshwaran P.
Alex.S
Jaiprakash
Arun J.
II
Nithishkrishnanaa K.
II
Dhanushri M.
Chiranjeevi M.
Dilbar Mohammed Naseer
Swathika M.
Nandhini.J
III
Lokesh Kumar M. S.
III
Kalam Jawhar Hameed.S
Dhamodaran R. S.
V.V.Suthakaran
Girinath R.
Sundaravalli .R
III
Subashri .S
Umabharathi. C
MARWADI UNIVERSITY:
SRM INSTITUTE OF SCIENCE & TECH:
MENTOR: DR. ANKUR BHOGAYATA
MENTOR:DR. SINDHU S.
Priyankaba Jadeja
I
Deepu A
I
Aryan Shigrakhia
Purushothaman
Drasti Buddh
Lokeshkumar B
Dimple Virsodiya
II
Vikraam Chandra R S
II
Anu M. Nakum
Vedha Varshini S
Mansi J. Chavda
Porchezhian S
Varasada Shubh Niteshbhai
III
Pavan Raj N
III
Bumatariya Chirag Jayeshbhai
Shriram S
Parmar Vivek Rajeshbhai
Suriya R
PSG INSTITUTE OF TECHNOLOGY:
RAJARAMBAPU COLLEGE OF ENGG:
MENTOR: PROF. S. ELAYRAJA
MENTOR: PROF. MAYUR MASKE
Karthick.A.R
I
Hemant Pandurang Lohar
I
Manikandan.K
Santhosh.D
Muthulakshmanan.M
II
Shivam Dhananjay Mali
II
Aejaz Ahamed.A
Pratikesh Sanjay Phadtare
Afra.M.K
Smita Smbhaji Patil
Madhan Kumar G
III
Keerthiprakash.M
Sanjay.J
NANDHA ENGINEERING COLLEGE:
MENTOR: DR. E. K. MOHANRAJ
G. Sugesh Kumar
I
S. Vasantha Kumar
S. Aravinth

(2) 2022 Essay Competition:
Essay Competition was organised in 10th September 2022 for students from Civil Engineering Colleges.  The topic of Essay was "Fire Protection to Concrete". The essays have been scrutinised by dignitaries and 3 students are selected as top 3 winners from the following college for this Competition.
KONGU ENGINEERING COLLEGE
MENTOR:DR. G. S. RAMPRADHEEP
STUDENTS' NAMES
RANK
Dharanyaa.R
I
Dhanushri M.
II
Baraneetharan R.
III
The winners of the above two competitions has been awarded by India Chapter of ACI with appropriate plaques, certificates, and with cash prizes of Rs.10000/- for 1st Rank, Rs.7000/- for 2nd Rank, and Rs.3000/- for 3rd Rank, and certificates to the participants on 7th October 2022 during Its International Conference on "Moderns Trends in Construction Technology" held at hotel Lalit Mumbai.
Wide publicity was given to these competition given through the Chapter's Journal and other technical journal, Chapter Website, and social media.
IC-ACI Board of Direction congratulated the winners of the above competitions and wishes them all the best for their future career.